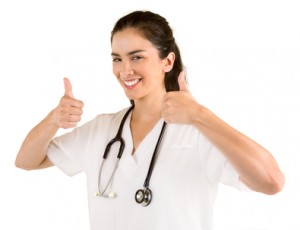 As 2013 began, some experts declared that not only was the nursing shortage over but that it was a "myth" (See our February 2013 article: "Is the nursing shortage a myth?") and a number of news outlets began reporting on just how difficult it was becoming for new nursing school graduates to find a job. However, as we enter 2014, it is clear that there is still a shortage of experienced nurses in some regions, that the demand for nurses will continue to rise and that new nurse graduates still have a much better chance of finding a job than new graduates in other fields.
An August 2013 survey by the American Association of Colleges of Nursing found that the average job offer rate at the time of graduation was 59% for BSN graduates and 67% for MSN graduates. The survey also found that within 4 to 6 months of graduation, 89% of BSN graduates and 90% of MSN graduates had job offers. In comparison, a similar survey, by the National Association of Colleges and Employers, of graduates in other fields found that only 29.3% had a job offer at the time of graduation. This indicates new nurse graduates still have a much better chance of finding employment than those in other fields. The survey also indicated that there were significant regional variations in new nursing school graduate employment rates within 4 to 6 months of graduation:
The job offer rate for BSN graduates did vary by region, from 82% in the North Atlantic to and the West to 90% in the Midwest to 93% in the South. For entry-level MSN program graduates, the job offer rate at 4-6 months post-graduation ranged from 80% in the West to 87% in the North Atlantic to 94% in the Midwest to 96% in the South.

Source: 2013 Employment of New Nurse Graduates and Employer Preferences for Baccalaureate-Prepared Nurses, AACN.
There are other reasons to believe that the nursing shortage is not over yet and will continue for some time.
A recent survey by AMN Healthcare found that there is a 17% vacancy rate for nurses in hospitals in the United States and that 66% of hospital executives believe there is a shortage of nurses.
The 2010 Patient Protection and Affordable Care Act (popularly known as Obamacare) is also projected to significantly increase nurse employment and the number of open nursing jobs as millions of previously uninsured Americans gain access to health insurance coverage in 2014. The demand for nurse practitioners is projected to increase as healthcare organizations seek to alleviate a shortage of physicians and primary care providers by switching to new models of primary care where nurse practitioners and advanced practice registered nurses will assume an expanded role in providing healthcare. As the nursing job market continues to evolve, it is clear that nurses will need at least a BSN to remain competitive and that nurses with advanced post-graduate training such as an MSN degree will have an even greater competitive advantage in the nursing job market.