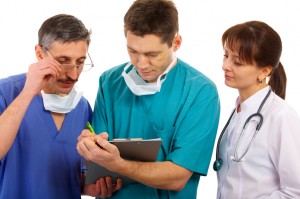 Coordination of care is not a new role for nurses, but it has never been fully appreciated. As nurses, we coordinate patient care and ease the transition from hospital to home, often preventing readmission to hospital and improving the quality of patients' lives. Finally, this vital role is being seen as a valuable one, not just in terms of patient care, but in financial terms for nurses who perform this essential service.
The Medicare fee schedule is set to change in January of 2013. It contains new codes that will have a great impact on care coordination, which is typically performed by nurses in a physician-supervised setting. Currently, reimbursement for non-face-to-face visits is lumped under payment for face-to-face visits. Both physicians and nurses have argued that the current codes are insufficient, as they do not account for communication with persons other than the patient, home visits or conveyance of patient information over the phone, common practices which are not adequately addressed under the current codes.
"Specifically, this HCPCS G code would describe all non-face-to-face services related to the TCM furnished by the community physician or qualified nonphysician practitioner within 30 calendar days following the date of discharge… The post-discharge TCM service includes non-face-to-face care management services furnished by clinical staff member(s) or office-based case manager(s) under the supervision of the community physician or qualified nonphysician practitioner" (Centers for Medicare and Medicaid Services, 2012).
Required elements for post-discharge transitional care management include:
communication with the patient/caregiver within two (business) days of discharge (communication by phone, electronically or face-to-face)
medical decision-making of moderate to high complexity
to be eligible to bill for the service, there must be a face-to-face visit with the patient within 30 days of the transition in care or within 14 (business) days following the transition in care
What does this mean for nurses? Nurses provide an essential service and should be reimbursed for this service, according to the American Nurses Association. Care coordination activities are often performed by RNs and have been shown to reduce patient costs, improve outcomes, prevent readmission to hospital and increase patient satisfaction. This move by the CMS increases the likelihood that nurses may soon be able to directly reimburse for these services. This may create the need for new nursing jobs to fill the growing need for nurses skilled in this area, particularly as the population is aging rapidly and more elderly individuals are living in the community.
As physicians will be able to bill for services performed by nurses who provide transition services, this will encourage the growth in jobs in this area. "Although the rule does not allow separate billing for care coordination, some private insurers likely will use the codes to reimburse providers directly for the service…[reimbursement policy] could expand the RN job market and raise recognition for nurses" (Nurse.com, 2012).
Sources:
Medicare Program; Revisions to Payment Policies Under the Physician Fee Schedule, DMEFace-to-Face Encounters, Elimination of the Requirement for Termination of Non-Random Prepayment Complex Medical Review and Other Revisions to Part B for CY 2013. Centers for Medicare and Medicaid Services, 2012.
CMS rule creates reimbursement opportunities for RNs. Nurse.com, November 15, 2012.